Support Sustainable Supplies
Published July 8, 2014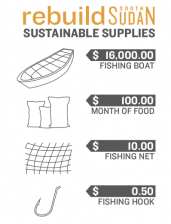 Though Rebuild South Sudan's mission is to promote education in Jalle through its school-building project, the number of displaced people caused by the internecine fighting that erupted in the country last December has led RSS to recast its sights on shorter-term goals aimed at relief effort.
So we've decided to aim to fulfill the needs of one community out of the many people who have been displaced by the conflict–over a million according to the UN High Commissioner for Refugee's office. Many of those displaced in Bor and Jalle (in Jonglei State, highlighted below) have been surviving along the Nile River, so we've shifted efforts temporarily away from building the school towards raising funds for supplies to help these displaced people survive. Our goal is to provide the 300 families in the Jalle region with fishing hooks, nets, a boat, and food. Food becomes much easier to deliver once the boat is purchased, so for now RSS has used a portion of funds solely for nets and hooks.
Box of 50 fishing nets – $475
Box of 100 fishing hooks – $30
Modern boat – $15,800
We continue to be committed to the goal of promoting education, empowerment, and justice for the people of South Sudan through completing construction of the school. However, we decided to halt this project temporarily to meet the immediate, urgent needs of the people whose lives continue to be in jeopardy. CEO and founder Michael Kuarny has returned to live in Jalle and is working in conjunction with community elders there to purchase and deliver these supplies.
Once we reach the funding goal of $10,000, RSS will be able to purchase a motorized long boat (below) for the community, increasing their fishing capabilities and enabling them to transport supplies and food. If you would like to contribute to these relief efforts, please consider making a contribution.