Hope is Roof-shaped: Development in South Sudan
Published November 29, 2015
One roof closer to completing this building as an offering to hope and development in South Sudan.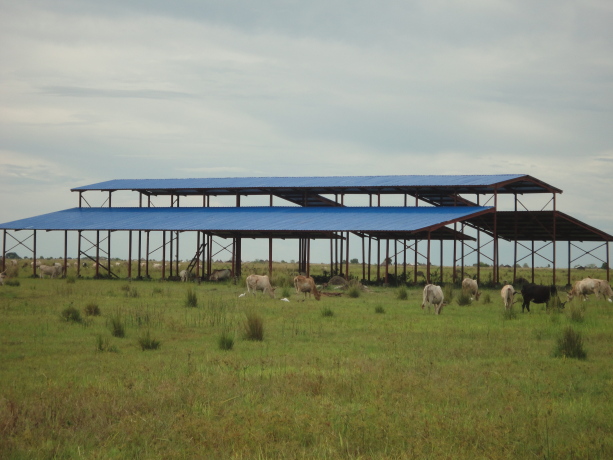 In October of 2015, the roof of the only permanent structure for miles was installed in Jalle Payam. We want to take a moment to celebrate that! And at the same time, we want to take many moments to remember the lives lost in the October 2015 Jalle cattle raid. With these two events, We enter into the joy-pain paradox that many in South Sudan live with on a daily basis. The joy of the roof is accompanied by the sorrow of loss for Jalle Payam.
This roof has been a long time coming and is no small accomplishment. We thought that this roof would be on the structure a few years ago. We thought the building would be finished in the year 2012. But none of us could see into the future to know what we would be up against. We didn't know that our first contractor would disappear with the crane needed to erect the steel frame. We didn't know that South Sudan would erupt into another civil war at the end of 2013.  And we didn't know that our original roof panels would be lost in the Dec 2013 Bor Town massacre.
The World Bank's annual Doing Business  2016 Report lists South Sudan as the third hardest nation in the world for conducting business (ranked 187 out of 189). Even though, we press on together with Jalle. In early 2015, teachers and students began holding classes under the red frame as an act of faith that this school would one day be complete. After almost two years of a construction stand still, Rebuild South Sudan and Jalle community members rallied once more to put a roof over teachers and students alike. In October 2015 roofing supplies, workers, and a generator were on site, and a roof went up. Now these teachers and students have a shield from sun and rain, and we're one big step closer to completing this offering to development in South Sudan.
For Jalle, the joyful reality of the roof, a sign of future stability,  is set in a story of ongoing trauma. On October 23, 2015 , in the middle of the roof installation and on the the other side of the large village of Jalle, a cattle raid occurred. When all was said and done, thirty Jalle lives were lost, including some of Michael Kuany's family members and new friends of the Rebuild South Sudan Teacher Training team. We've been grieving with Jalle. We sent over some financial support to help with the costs of the group funeral and hospital bills for those wounded survivors.
Hope in South Sudan is hard to come by these days. In a land where death, loss and destruction are epidemic, this building is more than a school. It stands as a symbol of society, that one day South Sudan will be rebuilt, that war will not wage on without end. For the people of Jalle, the building stands as a monument of hope; realistically, we know that this is the long-haul kind of hope.
When asked why he does this work given just how challenging it is, Michael Kuany, Founder and CEO, responded,
"You don't do what is easy if you want to grow….  I know that it is a difficult work and it's not easy, but [South Sudan] is where my heart belong. I want to make a difference.  Similar thing happened to others and to me…. 
It can bring you to the point where you want to give up, but giving up is not a solution, it is a failure. To the people who are looking at you as a change agent, to lead them out of what they're going through… If you succeed you could be really strong. And it could actually prepare you for something bigger."
Thank you to all our supporters for helping us get this far and for participating in hope. The walls are the next step on this project. Please consider making a tax deductible contribution to the school as a way to continue on the journey with the people of South Sudan.