Hope in the Civil War in South Sudan
Published July 9, 2017
Hope is not a Luxury on the Anniversary of Independence Day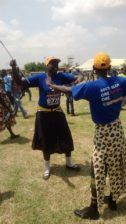 "Memories from the 2014 Celebration"
On July 4th the United States celebrated her independence with a flamboyant public, nationwide explosion of hot dogs, BBQs in every shape and size and fireworks. A mere five days later a much younger nation struggled to come to terms with what an Independence Day celebration would even look like. The fireworks in San Francisco are unregulated going on for several days. Here the fireworks sound like celebration, but fireworks sound the same as the battle on July 8, 2016 in Juba last year on South Sudan's Independence Day, the first year that the national celebration was cancelled.
Six years ago, when the flag of South Sudan was raised for the first time over Juba, the newly minted nation celebrated for days. [Insert photo of Michael Kuany] Now, as the country is rocked by famine and civil war, the South Sudanese may seem to have less reason than ever to celebrate in a conventional way. "We have a custom here in South Sudan," a Michael Malaak told Katie Rivers on the phone when she asked if he had enough food, "we just eat one meal a day, and that's what we just get used to here." That was in December 2016, and this civil war in South Sudan has become more dire with each day.
This year is the second year that federally sponsored Independence Day activities have been canceled as the government scrambled to channel their limited resources towards emergency services. "Will people have their own private celebrations like they did at new year's?" Katie Rivers asked a key contact in Juba on July 8, 2017. "People here don't really feel like celebrating."  The conversation went on to shed some light on one of the unique difficulties facing the people of South Sudan this Independence Day. Essentially, there are many internally displaced persons currently living on the UN compound in Juba. This group of IDPs is anxious to return to their home communities north along the Nile because they feel insecure in Juba. They would rather be at home and hungry than displaced and hungry. The government said it would use the celebration money to send IDP's home. In a community suffocated by famine and drowning in violence it can be a struggle to find something celebratory but our contact offers one possibility, "There's hope anyway…there's still hope." he said with a sincerity that belied desperation.
At Rebuild South Sudan, we've struggled with how to celebrate this important anniversary, the birthday of a nation on life support. For example to throw a big party with lots of food would seem odd (though none of our South Sudanese friends would want us to not eat just because they don't have food). The word that we've come to is solidarity because it acknowledges this important day at the same time it allows others to recognize that this is not an easy time. Solidarity is the on ramp to hope.
Hope as a sentiment is often hocked by would-be gurus as a kind of psycho-spiritual cure-all, but in times of desperation this diminutive word can be the difference between life and certain death. In countries where food is a given and shelter is abundant "hope" can seem at best like a luxury afforded the spiritually minded or a worst a form of passive anti-action masquerading itself as participation. I hope they have my size, I hope my team wins the championship, I hope I get a promotion etc. There is another kind of hope though, a desperate, wild-eyed, spark of energy that must be believed true, because if it is not then we are all finished.
This is the hope of the South Sudanese, a hope so fundamental and powerful it willed a nation into being. This is a hope so profound it fuels the ordinary tasks of life even though the body is haunted by hunger. This hope propels people out of their beds in the morning: a mother gets up, heats the water and sweep the compound and take care of the children. Men and women go to work in offices, doing the work of the nation, many without getting paid. Everybody gathers to rest in the late afternoon under shade trees. Sitting in white plastic chairs and drinking tea with milk, this is the living room, and also that cup of tea is dinner. It is in this context that hope brings not just optimism, but life. This hope is not a luxury. This hope equals the need for physical nourishment; how can one eat the bread if they could not first conceive the bread?
At Rebuild South Sudan we recognize that hope is not a luxury. Hope is what we traffic in, hope is our gospel, hope is the very foundation of what we do. Hope is tangible: it's the teacher training, it's the school building, it's the boat, it's presence on the ground. We need all of you to be a part of hope with us and all of South Sudan. For the people of South Sudan as long as there is hope there is a future, a future where their Independence Day is once again a day for celebration.